Can you believe it is summer time almost?? I was so excited to see that our Farmers Markets and farm stands are starting to open up!! One of our favorite fruits to grab in the summer is Cantaloupe. Its always a yummy cool treat to enjoy in the summer and one of the kids favorites!! We normally eat it plain, and then while surfing Pinterest I discovered there are so many more possibility to make Cantaloupe recipes!!
15 Cantaloupe Recipes
1. Cantaloupe Cream Pie | Source: Amanda's Cookin'
2. Cantaloupe Mojito | Source: Krystal's Kitsch
3. Melon Prosciutto Crostini | Source: Sugar Bee Crafts
4. Musk Melon Cantaloupe Basil Sorbet | Source: All Four Burners
5. Cantaloupe Juice Popsicles | Source: Gym Craft Laundry
6. Peach Cantaloupe Butter | Source: Little House Living
7. Summer Melon Salad | Source: Kitchen Trials
8. Melon and Strawberry Agua Fresca | Source: So Munch Love
9. Cantaloupe Pina Colada Smoothie | Source: One More Cookie
10. Cantaloupe Caprese | Source: Fork and Flower
11. Cantaloupe Ice Cream | Source: Kitchen Highlights
12. Salted Cantaloupe Jam | Source: Back to the Roots
13. Chilled Cantaloupe Soup | Source: It's Yummi
14. Cantaloupe with Lime, Mint and Honey | Source: Oh My Dish
15. Cantaloupe Meringue Pie | Source: Back to the Cutting Board
Follow Penny Pincher Jenny's board Penny Pincher Jenny Recipes!! on Pinterest.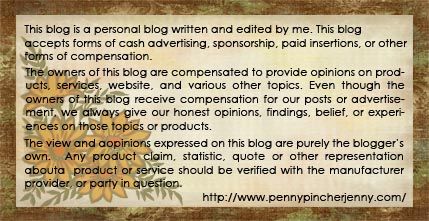 The following two tabs change content below.
Hello! I am Jenny a WAHM to 3 active kids. Together we cook, save money and find ways to stay healthy as a family. Cleaning, Weight Watchers and thrift store shopping are just a few of my favorite things.