0 Flares
Tweet
Email to a friend
0 Flares
×
Hello and Welcome to Pinching Pennies With Jenny!!!
I am a Stay at Home mom of three wonderful children!! I love my life and so have not had anything go the way I "planned" but I wouldn't change it for the world!!!  We are a mixed household my husband is from Peru so we are also bi-lingual (though my Spanish is more Dora level).  We live in Tacoma, WA and have been here for a couple years!!
I have couponed for the majority of my life from high school to marriage. After I had my third and about the time the economy really hit low it was more reality I wouldn't be working outside the home again I began to research more ways to save.  Using coupons is part of the reason some months there was food on the table!  Even though we are coming back up financially I still will never pay full price ever again!!
The past six months I have really learned how to save in different ways from online shopping, vacation deals, online rewards, and now owning a house. (Yes that was a scary adventure but so far worth it!!)
I look forward to sharing parts of my life with others (As a mother I tend to brag and share alot!!) and help others to learn the same things we do every day to allow us to afford to have me stay at home!!!!!
You may also know me from Weusecoupons!!  This coupon forum has been a great tool that I have learned from!! I am also a moderator on there (Jennyjlj) and love being on that site!! (I check it before facebook even!!!)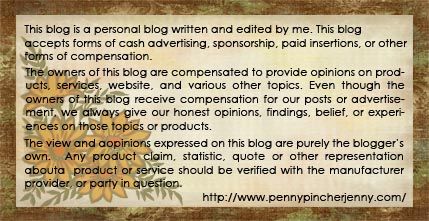 0 Flares
Tweet
Email to a friend
0 Flares
×