I am so excited that summer is coming up!! We have a ton of plans to go out and camping with friends and family! However it is important to note that the warm weather doesn't make the best situation for some foods. To prevent foodborne bacteria, here are some food safety tips for campsite cooking. (I am included affiliatnes links for products related to this subject)
Food Saftey Tips for Campsite Cooking:
Have a food thermometer handy. If you are cooking any type of meat or poultry on a campfire, you will need to know when it is done. To determine when the food is safe to eat, always have a food thermometer handy. Digital thermometers work the best since they are designed to register the temperature of the food in the probe tip. Beef should be cooked until it reads 160 degree, chicken breasts until it reads 170 degrees, chicken legs and thighs until it reads 180 degrees, pork until it reads 160 degrees and hot dogs until it reads 165 degrees.
There are some high-risk foods that are more susceptible to food poisoning bacteria than others. These foods include meat and poultry (raw and cooked), dairy products, eggs, seafood, rice and pasta that is cooked, fruit salads that are already made, other ready-made salads like pasta salads and coleslaw and foods that ready to eat like sandwiches and pizza.
It is important that you keep hot foods hot and cold foods cold. You also want to keep uncooked meat separate from other foods and in an insulated cooler with ice packs. Never put hot foods inside a cooler but instead ensure they are completely cooled first. If you have access to a refrigerator, then you can bring along perishable foods. However, if not, then you don't want to bring along any foods that are perishable. Instead, bring along canned and dry foods.
Does your family have any campsite cooking traditions they do?
Follow Penny Pincher Jenny's board Penny Pincher Jenny Recipes!! on Pinterest. Follow Penny Pincher Jenny's board Penny Pincher Jenny Favorite Posts on Pinterest.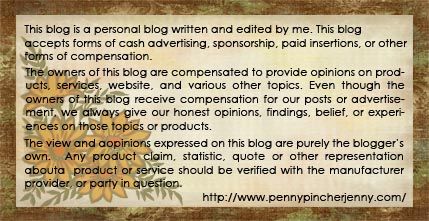 The following two tabs change content below.
Hello! I am Jenny a WAHM to 3 active kids. Together we cook, save money and find ways to stay healthy as a family. Cleaning, Weight Watchers and thrift store shopping are just a few of my favorite things.