I may receive a commission for purchases made through links in this post.
Corn on the cob is a favorite of all five of us in my family! And with so many picky eaters it can be so hard to find a vegetable that everyone loves. My oldest because of her braces was devastated she couldn't try this amazing corn on the cob. My husband was nice and did take some off the cob for her but she said she could tell it wasn't the same! I have always prepared m y corn on the cob on the stove top which is good, but now I don't think I can ever go back!!!
Grilled Corn On The Cob In Foil Ingredients
Foil
Oil *we used Olive Oil
Garlic Salt
Butter
Grilled Corn On The Cob In Foil Directions:
Fire up your grill, we did ours on a gas grill but I am sure it would be just as amazing on a charcoal grill.
Remove the husk from the ears of corn
Rub a bit of oil on the cobs this helps it not to stick to the foil
Lay the ears of corn on the foil or hold over the sink to season with garlic salt
Roll up in foil and tightly roll up the ends of the corn on the cob
Place on grill, I had mine on the upper rack of our grill
Grill for about 20-30 minutes, I left mine on while our meat was coking the whole time. Be sure to flip/roll the corn every so often.
Use caution removing the corn on the cob from foil.
Serve! You can add some butter if you want as well
What is your favorite seasoning for Corn on the Cob? Have you grilled it before?
Follow Penny Pincher Jenny's board Penny Pincher Jenny Recipes!! on Pinterest.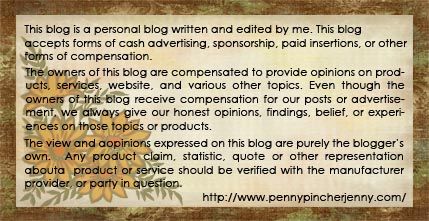 The following two tabs change content below.
Hello! I am Jenny a WAHM to 3 active kids. Together we cook, save money and find ways to stay healthy as a family. Cleaning, Weight Watchers and thrift store shopping are just a few of my favorite things.