First, let me say thank you to all our service men and women. I truly value your bravery and your service. And Memorial Day is a great time for remembering that there are soldiers that don't make it home. They and their family made the ultimate sacrifice to protect OUR freedom and to give freedom to those who are under oppression.
My dad was active duty Air Force for 21 years and he was away for a LOT of holidays and important parts of our life.  We always knew his love and the times he was home was EXTRA special!! BBQing was (and is) still his favorite way to eat beef!!! I remember when we were stationed  in South Dakota we even BBQed in blizzards!!! My kids still insist he is a better bbq chef then I!! Thank you dad and all other veterans and active duties for your sacrifices for our country!!!
There will be 1 winner for each prize…so 4 winners in total.
The giveaway is live NOW and will end at 11:59pm EST on 5/29.
Here is what you need to do to enter:
Like all the below sponsors on Facebook
Leave a comment on this blog post (required for verification purposes)
Fill out the Google Doc form below
Share on Facebook (and if you do, fill out the form again)
Share on Twitter (and if you do, fill out the form a 3rd time)
Hop around to other sponsoring blogs, and enter again. Yep, you heard that right, you can do all of these things on EACH blog!
Good Luck!
And now for our Sponsors:
The winners will be notified by 5/31. If you see your name on a winner's list and haven't received an email by 5/31, please send me an email so that I can get your prize info to you. Any prize left unclaimed after 6/2/12 may be forfeited, or another winner will be chosen at the discretion of MyCouponLady.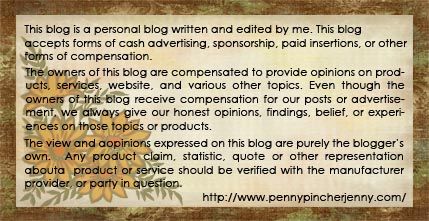 The following two tabs change content below.
Jenny is a SAHM to three kids, as well as soccer coach, and Girl Scout leader. She is a lifetime Weight Watchers member, running enthusiast, and loves to work out! She and her kids have discovered a new passion for cooking.