It's the New Year which means that weight loss resolutions are in full swing right now! I don't know about you but I love the start of the New Year, it's like a chance to fix everything that you messed up the year before. I love having a chance to recommit to things that I didn't do well in the previous year. I know all the life changes in the past year for me have led to some of my 70.8lb weight loss being gained back. I am excited to say that I am now within a 10lb range of my lifetime weight goal! (Be sure to follow me on -> Instagram as well share a lot of my journey on there) I know how I gained and now it is time to get my act back together and ditch the excuses! As with any weight loss or exercise regimen check with your doctor, also starting out with a psychical will give you some great starting points and expectations from your doctors.
I picked a really good time to get back on track with Weight Watchers as they just rolled out their new Smart Points Plan! Starting fresh I am making sure I do a generic "back to basics" plan as well which will help me make sure I have what I need to be successful! (I have included links to some great products that I have bought on my own to make my journey easier. You can buy them too through my online sales links.)
*My Smart Phone And E-tools:
I love the smartphone and e-tools assistance. It doesn't get any easier than scanning a barcode and knowing the total number of points! Plus I can look up the points for the restaurants, food, and quickly use the calculator to figure out the smart points. If you are like me and always have your phone on you, the friendly reminders can be set up to help you to remember to track. The reminders keep tracking in the front of my mind and they help remind me to keep an eye on my points. Plus how much fun is your work out if you can't share what you did with people on Instagram?

*Fitness Tracker:
I am partial to my Fitbit One now (You can read more about Fitbit and how to earn money with it ->here), and it automatically converts your exercise points when you have it synced with the Weight Watchers app. With the Fitbit challenges you can motivate your friends or have your friends motivate you in which will help keep you moving and on track!
*Paper Journal:
I love the new journal from Weight Watchers. Even though I track with my E-tools I still write it all out. For some reason tracking seems to stick better with me when I also write it down. Plus you can record your thoughts and feelings to look at later. These kinds of things play a huge role in how successful (or unsuccessful) we are with Weight Watchers!
*Food Scale:
This is one of my most frequently used things when making my meals. I use my food scale to measure out my chips to the gram (let's face it sometimes you get more that way then by counting chips). I also measure meat by the ounce, liquids by the fluid ounce, and so on to make sure I am tracking as accurately as possible.

*Bathroom scale and cloth tape:
The bathroom scale of course is one of the biggest ways to measure your weight loss but it's so important to remember to record your body inches as well. You should also keep track of your clothing sizes and shoes sizes. It is so motivating on those weeks the scale doesn't move to be able to say you lost inches, shoe size, or even bra size!
*Measuring Cups and Spoons:
I have about four sets each of measuring spoons and measuring cups. I use so many during the day that having some extra sets keeps me from not using one because they are dirty. Yes it is a few more dishes but it also stops me from guesstimating my measurements! You would be amazed at what a ¼ cup or 1 tbsp. looks like compared to what you picture in your mind!

Water Bottle and Water Cups:
I have a bit of a cup obsession and a water bottle obsession to match. I like to reward myself with a new one every so often. If you like what you are drinking from you are more likely to remember to take it places with you and drink out of it more often! Be sure to find out from your doctor the amount of water you should be drinking to help you to lose weight!
*Support Groups and Buddies:
This is the most important part for me! Make sure you have either friends or family you can lean on for support. I have a friend who helps keep me on track. I have discussed with her what I need from her: a reality check when I go off plan! Plus local Weight Watcher meetings are a great place for support and to start new friendships as well!
What are tools that have helped you to be successful with your weight loss journey?
Follow Penny Pincher Jenny's board Penny Pincher Jenny Favorite Posts on Pinterest.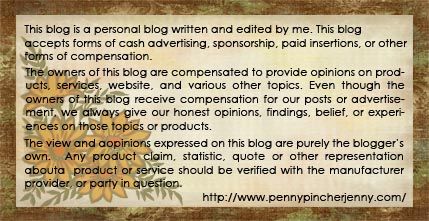 The following two tabs change content below.
Jenny is a SAHM to three kids, as well as soccer coach, and Girl Scout leader. She is a lifetime Weight Watchers member, running enthusiast, and loves to work out! She and her kids have discovered a new passion for cooking.