7 Flares
Tweet
Email to a friend
7 Flares
×
I LOVE grilling!!! And I love using marinades on all our meat and stock up on it every spring when they have coupons come out!!!
I was selected by Buzz Agent to try out Lawrys newest flavors and the season all!!!
The my favorite was the Herb and White Wine marinade!! It made the porks so juicy!!  I was not suprised this one was my favorite becuase i already love their herb and garlic marniade!!!
I was shocked I liked the Santa Fe Chili I normally don't like things that are spicey or have a kick but this one was really done well.  It wasn't to strong and had a light kick.  My kids even ate it!!
We also did some with just the Lawrys Season All dry seasoning.  These weren't my Favorite on the pork but I already use it all the time on burgers!!!
 I also look forward to doing steaks with eh Santa Fe!!
Go here to see the full line!!
*I recieved two bottles of marinade and a bottle of seasoning with an apron and coupons.  All opinions are my own opinions and I only recommend products that I like and would use personally.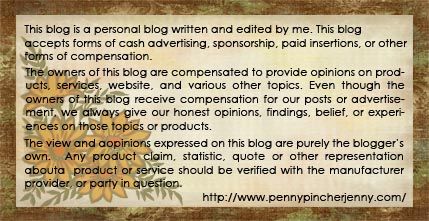 7 Flares
Tweet
Email to a friend
7 Flares
×