Most SodaStream Jet Home Soda Makers are retailing anywhere from $80+ online and in storeat this time.  We are going to show you a deal on how to get your own SodaStream Jet for less than $40 shipped!  Just follow the steps below and you'll be on your way to saving over 70%! This is a SUPER HOT deal if you're looking to purchase a SodaStream and want a deal.  Don't let the steps discourage you – it's worth it in the end to get the BEST price!
Head over to Ebates and create a cash back account. (or login)
if you are a new member you will be given the option for a FREE $10 Gift Card to Home Depot, Target, Barnes & Noble
you must complete a $25 purchase within the 30 days of signing up to get your card (this purchase will do that!)
Once in your Ebates account, search for Kohl's
Click "Shop Now"
On the Kohl's website you will search for "SodaStream® Jet Home Soda Maker"
This will show a price of $99 – on sale for $89.
Add this item to your cart for that price.
Kohl's Cardholders enter coupon code: GIFTS4ALL to save 30% (-$26.70)
Non-Kohl's Cardholders enter coupon code: SMS5933 to save 20% (-$17.80)
Enter code: GIFT4CK for FREE Shipping
You will check out paying $62.30 (Kohl's Cardholders) or $71.20 (Non-Kohl's Cardholders)
Make sure you fill out this Mail In Rebate for $10 found in the 12/12/11 Smart Source CouponInsert or online with purchase by 12/31/11
You will receive $10 Kohl's Cash for this purchase ($50 purchase made before 12/24)
Ebates will be adding 4% Cash back to your account either $2.49 or $2.85
You'll get the $10 Gift Card from Ebates (with $25+ purchase!) if you are a first time customer
So you're final LOWEST price obtained will be: $62.30- $2.49CB – $10 KC- $10 Rebate- $10 GC =$29.89 SHIPPED!
Talk about the SAVINGS!  That's 70% off retail price!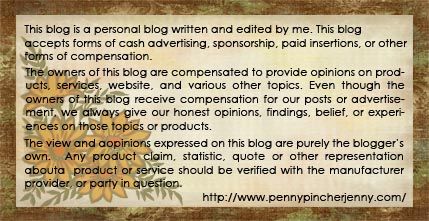 The following two tabs change content below.
Jenny is a SAHM to three kids, as well as soccer coach, and Girl Scout leader. She is a lifetime Weight Watchers member, running enthusiast, and loves to work out! She and her kids have discovered a new passion for cooking.